24K GOLD & Collagen EYE MASK 6PK
Regular price

$49.95

Sale price

$39.95
Our most revered beauty secret, the Lonvitalité 24K Gold and Collagen Eye Masks feature the ultimate combination of ingredients and are perfect for those that wish to reduce fine lines (goodbye crows feet!) and brighten, hydrate and nourish the under-eye area.
DESCRIPTION

The who's-who of ingredients all come together in this highly nourishing formula, working in unison to offer the ultimate thirst quencher for tired, puffy eyes or that bit of extra sparkle for your pre-party prep. Hyaluronic acid works in conjunction with red algae and vitamins A, C & E, to rejuvenate the under-eye area and improve blood circulation. Finished with a hint of rose essential oil, the 24K Gold and Collagen eye masks are truly sublime.

Use your 24K Gold Eye Mask to elevate your self-care routine, or simply treat yourself to a bit of everyday glamour. For a true salon experience at home, use it in conjunction with the Platinum Contour Roller.
BENEFITS

As any beauty aficionado knows, the eye area is one of the first places to show signs of aging. Fine lines, dark circles, and puffiness can all make you look tired and worn out. That's where the 24K Gold Eye Mask comes in. This luxurious mask helps to brighten and revitalise the eye area.

Gold has been used for centuries in skincare, and for good reason. It's known for its anti-inflammatory properties, which can help to reduce the appearance of puffiness. Gold also helps to encourage cell turnover, making it an effective treatment for fine lines and wrinkles. When used regularly, the 24K Gold Eye Mask can help you achieve a youthful, radiant complexion.

Retinyl Palmitate, Niacinamide, Ascorbic Acid and Tocopherol will plump fine lines and wrinkles, even skin tone and will brighten, hydrate and nourish the under-eye area
Protein and antioxidant-rich Red Algae promote healthy skin barrier function and assist with hydration
HOW TO

For best results use your Gold Eye Mask for 3 consecutive days, then 1-2 times per week to maintain results.

Directions: Gently cleanse and dry the eye area. Tear open the satchel and remove the eye mask tray. Place each mask under the eye and leave for 20 minutes. Remove the mask and gently rub the remaining serum into the eye area.

The perfect pre-make-up prep! Apply under the eye area during eye shadow application to catch any fallout. The mask will prep the under-eye area for a concealer that will last all day or night

For a cooling and soothing at-home eye treatment, place it in the fridge for 10 to 15 minutes before applying

For the ultimate anti-ageing treatment, use it in conjunction with the Platinum Contour Roller
INGREDIENTS

Ingredients: Deionized water l Hydrolyzed soy protein l Allantoin l Propylene glycol l Phenoxyethanol l Red algae extract l Glycerin l Vitamin C l Vitamin E l Vitamin B3 l Lubrajel oil l Microprotein l Idopropynyl butylcarbamate l Sodium hyaluronate l Aminopropyl asorbyl phosphate (Vitamin C) l Disodium EDTA l Grapeseed extract l Rose essential oil l Xanthan gum l hyaluronic acid l Carbopol 940 l Dimethylol dimethyl hydantoin l Ethylhexyglycerin l Gold powder
Looking for more ways to reach your skincare goals?
Share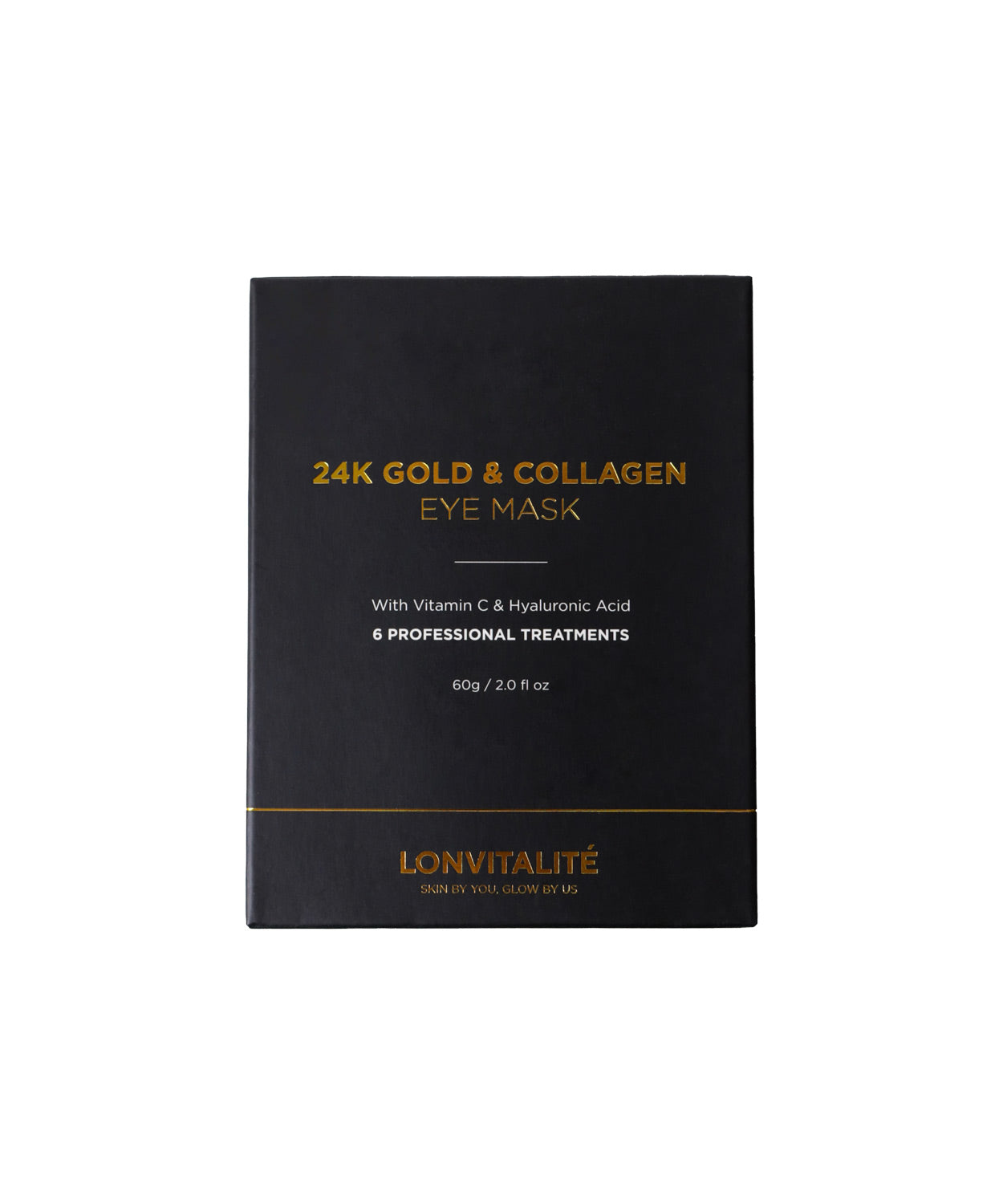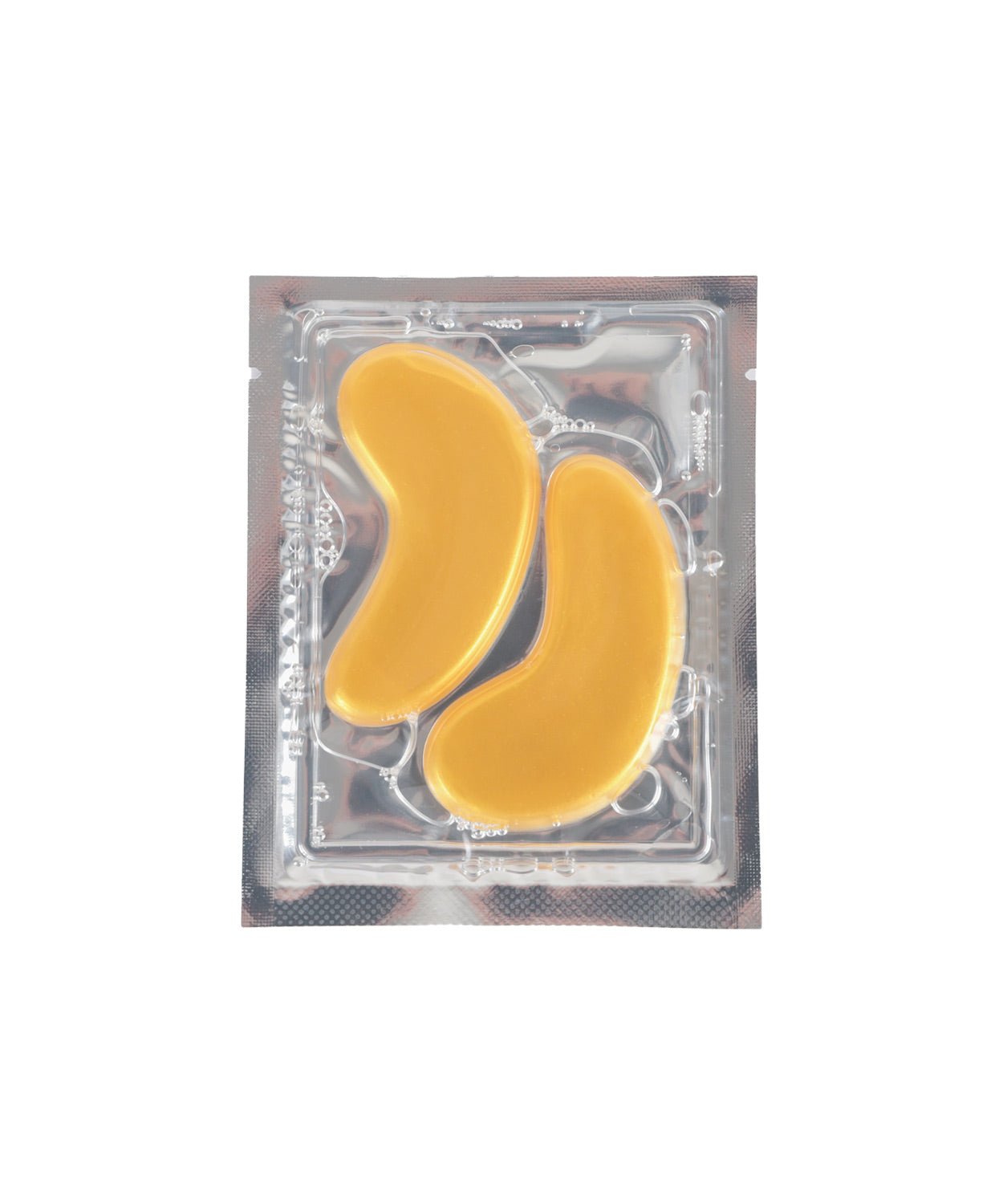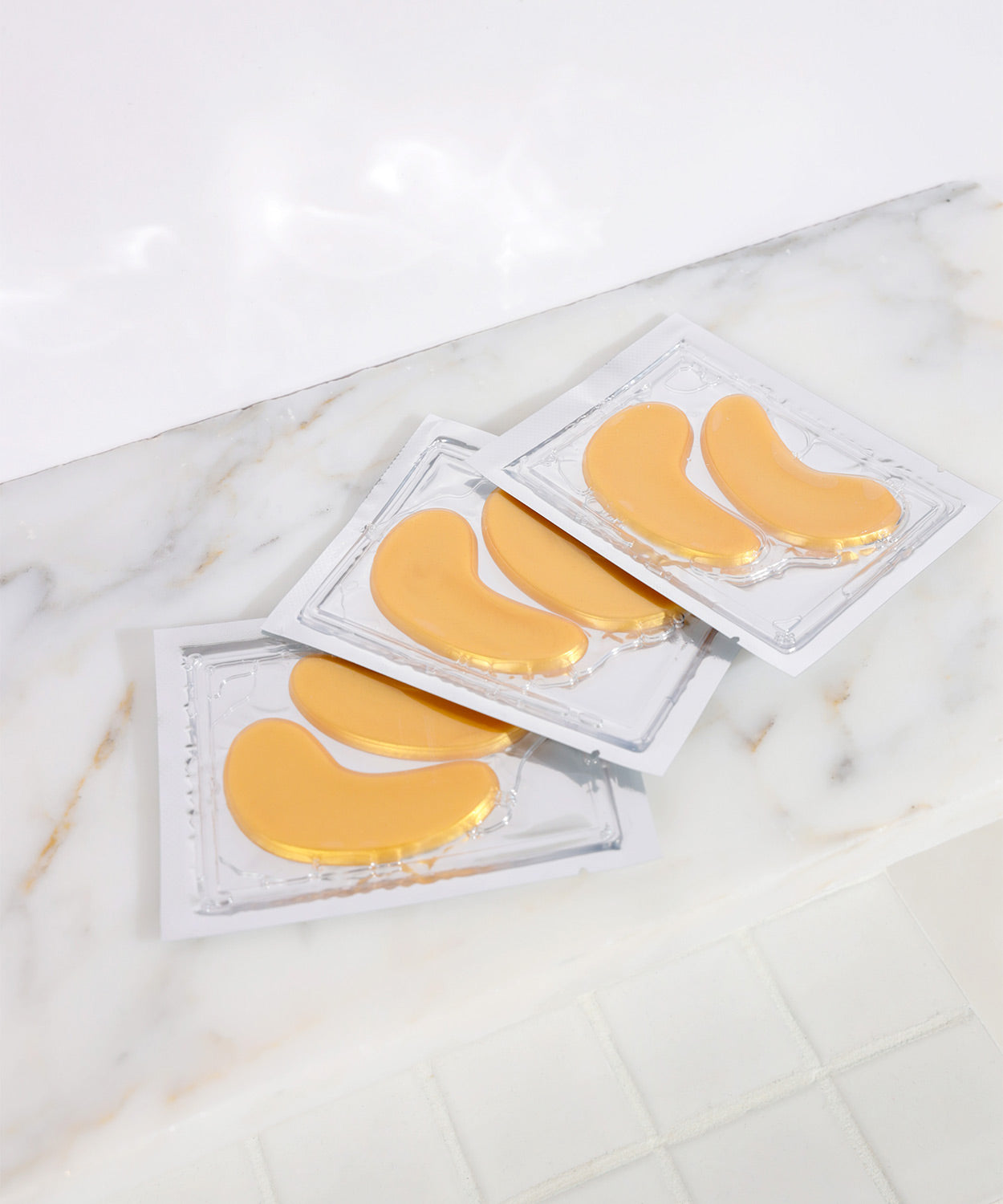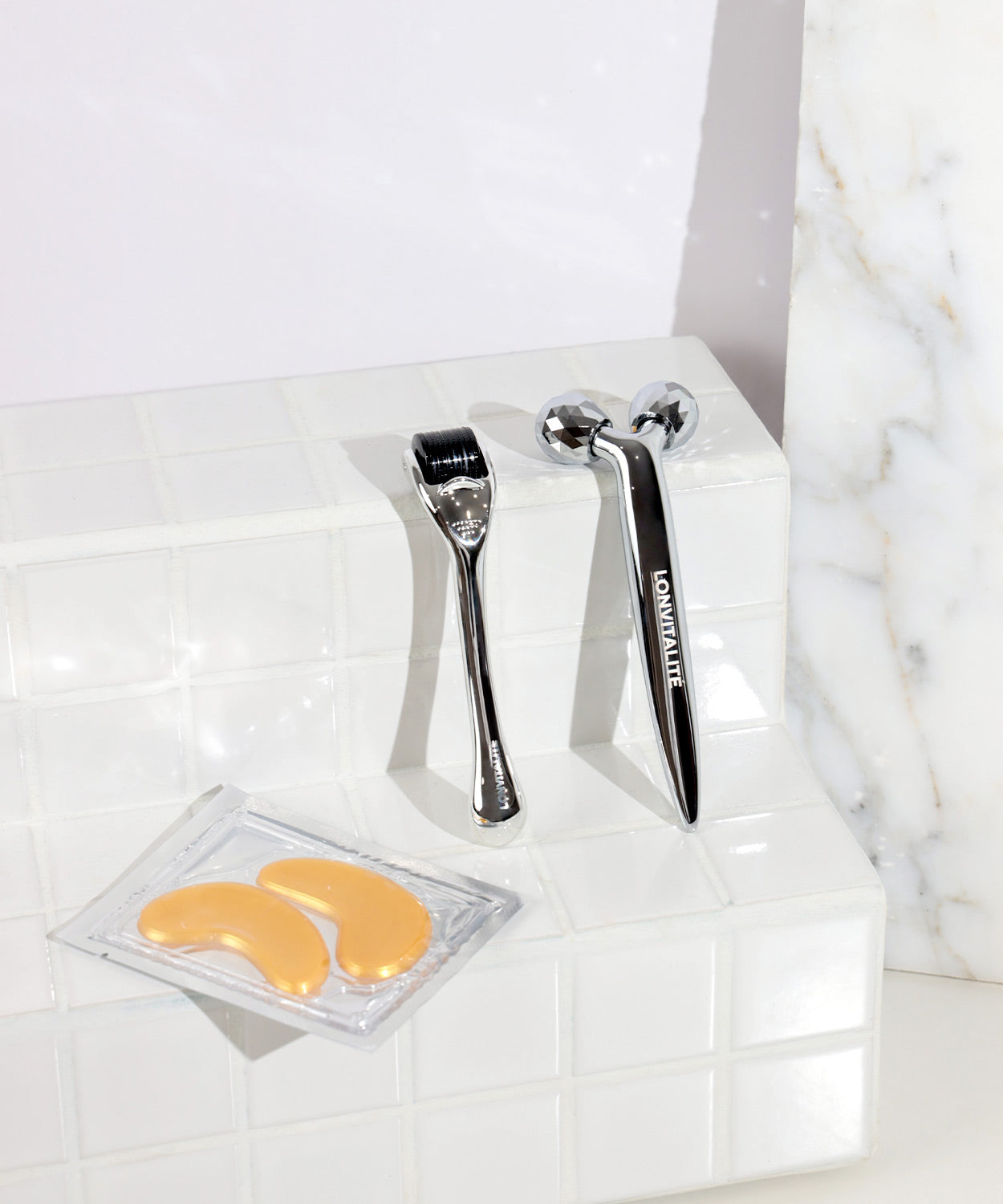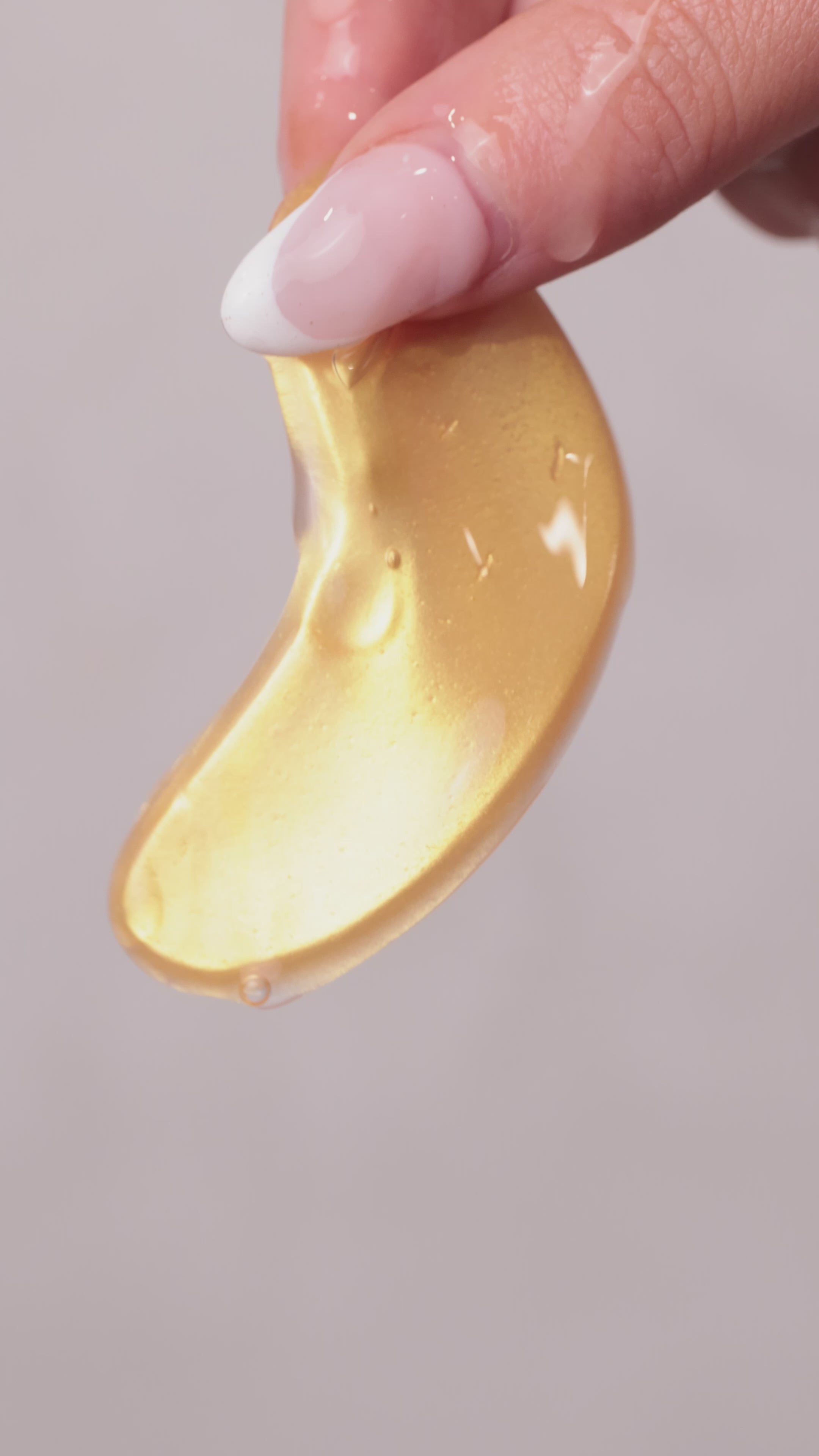 OUR PROMISE

FAQs
What's the difference between a normal eye mask and a gold eye mask?

Most people are familiar with the traditional eye mask: a soft, gel-filled oval that is placed over the eyes to reduce puffiness and darkness. However, many people are not aware of the benefits of using a gold eye mask.

A gold eye mask works by gently exfoliating the delicate skin around the eyes and stimulating collagen production. As a result, they help to reduce the appearance of fine lines and wrinkles. In addition, gold eye masks can help to brighten the skin and give it a healthy, luminous glow.

While traditional eye masks can be beneficial, a golden eye mask will offer an extra level of luxury and pampering - because you deserve it.
How do I know if my 24K Gold Eye Mask is authentic?

Gold doesn't come cheap, so when it comes to buying an eye mask (gold-plated), it"s important to make sure that you're getting an authentic product.

Fortunately, there are a few easy ways to tell if a golden eye mask is the real deal or if the colour is completely fake.

First, check to see if the seller is an authorised retailer. Lonvitalité is an authorised seller of the Gold Eye Mask Australia-wide, so you can be confident that you're getting a genuine product from us.

Second, take a close look at the packaging. The gold eye mask should be sealed to ensure the material hasn't been tampered with.

By following these simple steps, you can be sure that you're getting a genuine Gold Eye Mask and enjoy all the benefits that it has to offer.
Should I use my Gold Eye Mask during the day or night?

There"s no wrong time to use your Lonvitalité Gold Eye Mask!

Whether you're looking to add a touch of luxury to your morning skincare routine or wind down at the

end of the day with a relaxing beauty ritual, these indulgent masks can be enjoyed any time of day. Made with nourishing ingredients like hyaluronic acid and collagen, gold eye masks help to brighten, hydrate, and smooth the appearance of fine lines and wrinkles. For best results, we recommend using them at least once a week.

So go ahead and pamper yourself whenever the mood strikes - your skin will thank you for it!
Is a 24k Gold Eye Mask safe on the skin?

At Lonvitalité, the well-being of our customers is our top priority, which is why we never sacrifice safety when making our products.

Gold is a soft metal that is non-reactive, meaning it won"t cause irritation or skin allergies. In fact, gold has been used in skincare for centuries and is even said to have anti-aging properties. When used in an eye mask, gold can help to reduce puffiness and fine lines.

However, it's important to use a reputable brand like Lonvitalité that uses a safe amount of gold in their products. When used correctly, using a 24k Gold Eye Mask is perfectly safe for your skin.