MICRONEEDLING DERMA ROLLER KIT FOR FACE & BODY
Regular price

$149.95

Sale price

$149.95
Our TGA-listed, medical-grade micro-needling Derma Roller Kit is your one-stop shop for a full-body micro-needling experience. Enjoy all the benefits of a head-to-toe micro-needling device, in the comfort of your own home.
DESCRIPTION

With an appropriate attachment for the face, body and delicate eye and lip area, as well as a derma-stamp to target small, problematic areas, this kit offers professional, salon results at home. Kept in a sterilising tray, this comprehensive kit offers targeted, anti ageing microneedling, for all parts of the body.

Made with medical-grade titanium, each attachment provides microneedles designed to treat specified parts of the body to boost collagen and elastin production.

Rejuvenate your skin texture for anti ageing benefits by improving the appearance of fine lines and wrinkles, sun damage, pigmentation, acne scars and stretch marks. As well as stimulate hair growth on the scalp, beard growth and eyebrows.

Our skin needling home kit can also help maintain your salon treatment results by extending your skin's collagen production process. The derma roll device also improves the efficacy of all your skin care products. You can expect some redness initially when derma rolling or if you have more sensitive skin but it is suitable for all skin types.

Discover what the hype is all about with this practical and versatile Derma Roller Kit. For optimum results, pair with our Skinprove Serum containing hyaluronic acid however can also be used with other serums to improve their efficacy and absorption. 

Scaredy-cat approved. Lonvitalite Derma Roller - Microneedling made safe (and even fun). Lonvitalite's Derma Rollers offer premium quality and visible results.

We're fussy about quality. Our Derma Rollers are made with medical-grade titanium needles and are listed with the Therapeutic Goods Association (TGA). The Microneedle Face and Body Kit is TGA listed – ARTG 309208

Need to know about derma roller kit:

Rolling is painless but you will feel a slight tingle when using the body roller. You can also expect some redness initially when derma rolling or if you have more sensitive skin but it is suitable for all skin types.
It is important to replace your attachment heads after 15-20 uses or after 3 months. This ensures the needles remain sharp and effective.
We recommend derma rolling 2-3 times a week ongoing for best results.
If you are pregnant or have certain skin conditions (like eczema or psoriasis) or have open wounds/scars you should consult your doctor before Derma Rolling.
You can use your Derma Roller Kit in conjunction with injection treatments and fillers. However, we do recommend consulting with your physician for a personal treatment recommendation.

An easy and affordable way to improve your skin health whether in between appointments or if you are just following a simple skincare routine at home. Our derma rollers can be used to complement your salon treatments and extend the skin care results your therapist is working with you on. Derma rolling can also help you achieve results for your skin that you can do yourself at home. Our derma rollers are designed to work with whatever treatments and skin care you choose to use.

Each attachment of the Microneedling Derma Roller Kit works from head to toe:

The replaceable Derma Roller 0.5mm Face attachment targets concerns situated in the deeper layers of skin such as acne scarring, rosacea, collagen and elastin loss and deeper lines and wrinkles. The Face attachment may also be used for males for use on the beard area for hair growth, also across the décolletage to improve ageing and sun damage concerns.
The Lips & Eyes 0.3mm attachment is designed to perfectly fit into the more intricate and delicate areas around the eye orbit and lip line. Fine lines and wrinkles around these areas can be softened, the attachment may also be used over the lip area for a lip-plumping treatment.
The Body attachment of 1.5mm is versatile in the concerns it can improve. Concerns of the body such as cellulite, stretch marks, C – Section scars, surgical scars, ingrown hairs, keratosis pilaris, lax or loose body skin as well as scalp for hair growth.
The Derma Stamp attachment 0.25mm is great for targeting spots of concern such as pimples, blackheads, pigmented spots, and vascular spots and the stamp can also be used in hard-to-reach creases such as laugh lines and nasal folds.

Note each attachment clicks into the handle that is provided in the kit. Handles do not need replacing. Please follow the instructions for how to attach to ensure the rollers attach correctly.
BENEFITS

To reduce the appearance of fine lines and wrinkles
To improve the uneven texture and tone of your skin
To increase the efficacy and absorption of your serums and skincare
To refine the appearance of pores, reduce blackheads and skin congestion
If you want to maintain the results of professional in-clinic skin needling
Promotes hair growth for patchy eyebrows, hair on the scalp and beards
Improve concerns of the body such as cellulite, stretch marks, scars
Lip plumping
Strong and safe premium titanium microneedles stay sharper and precise for longer – meaning you get up to 15 uses from one device
HOW TO

Instructions for Lonvitalite Microneedling Home Kit:

Use the Derma Roller Sanitiser Spray to clean the microneedle derma roller kit attachment heads or pour the solution into the in-built sanitiser tray and submerge the needling heads
Clean the skin before starting with your microneedling kit. Remove all makeup with the Cleanse Erase Embrace Cleansing Assistants and a suitable cleanser, and pat dry.
On the area you wish to treat, gently roll back and forth in each direction 5-10 times horizontally, vertically and diagonally using appropriate attachments for the body or face. Always lift the device off the skin before changing the direction of your derma rolling.
Apply the Skinprove Serum with hyaluronic acid for ultimate hydration and plumping. Our skin-needling home kit can be used with other serums.
Replace microneedle derma roller kit heads after 15-20 uses or after 3 months.

Kit includes:

Body – 1200 Needles 1.5mm (for use on body only)

Face – 600 Needles 0.5mm

Eyes & Lips – 240 Needles 0.3mm

Derma Stamp – 12 Needles 0.25mm

+ sterilising tray
Looking for more ways to give your face an unbeatable glow?
Share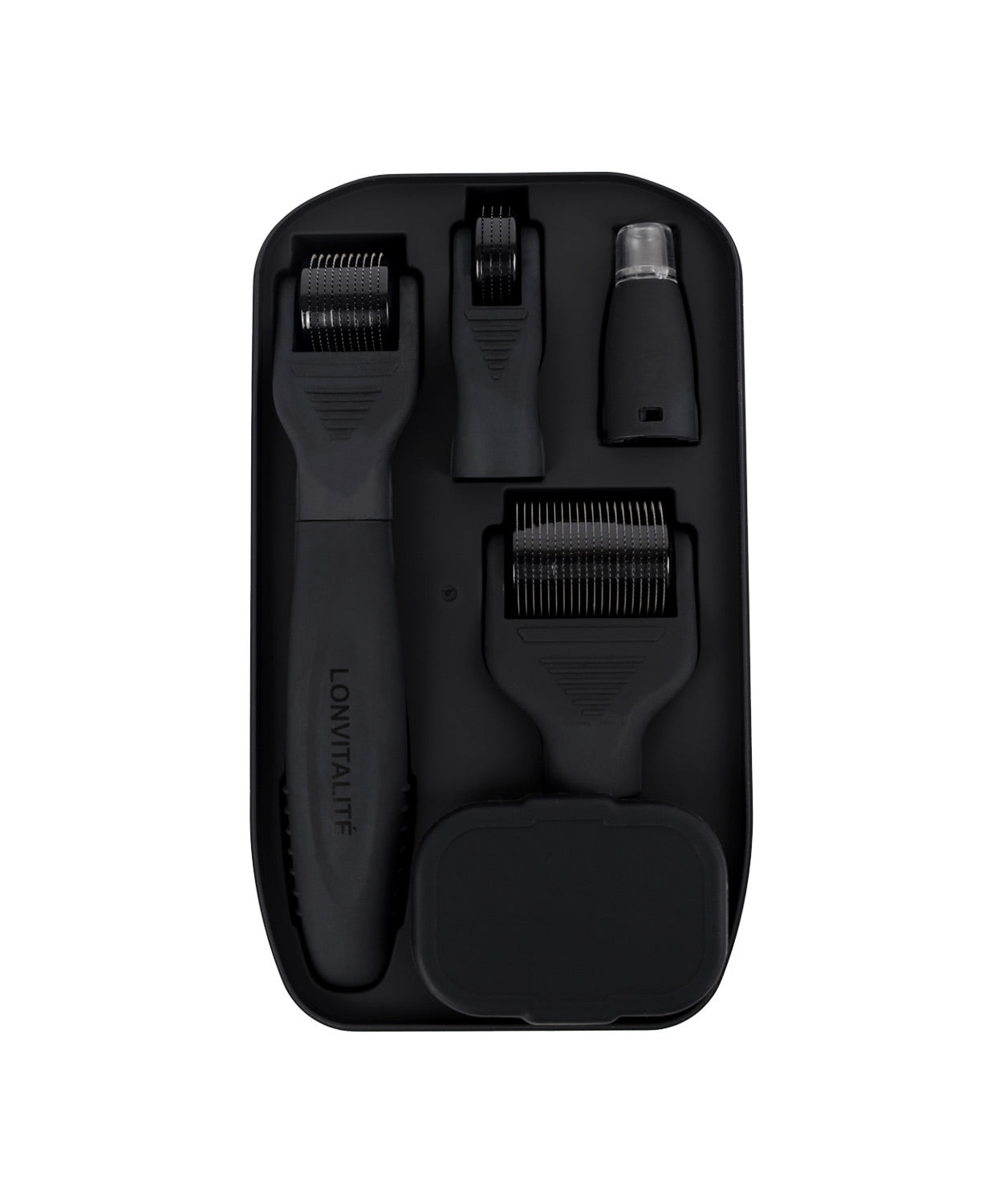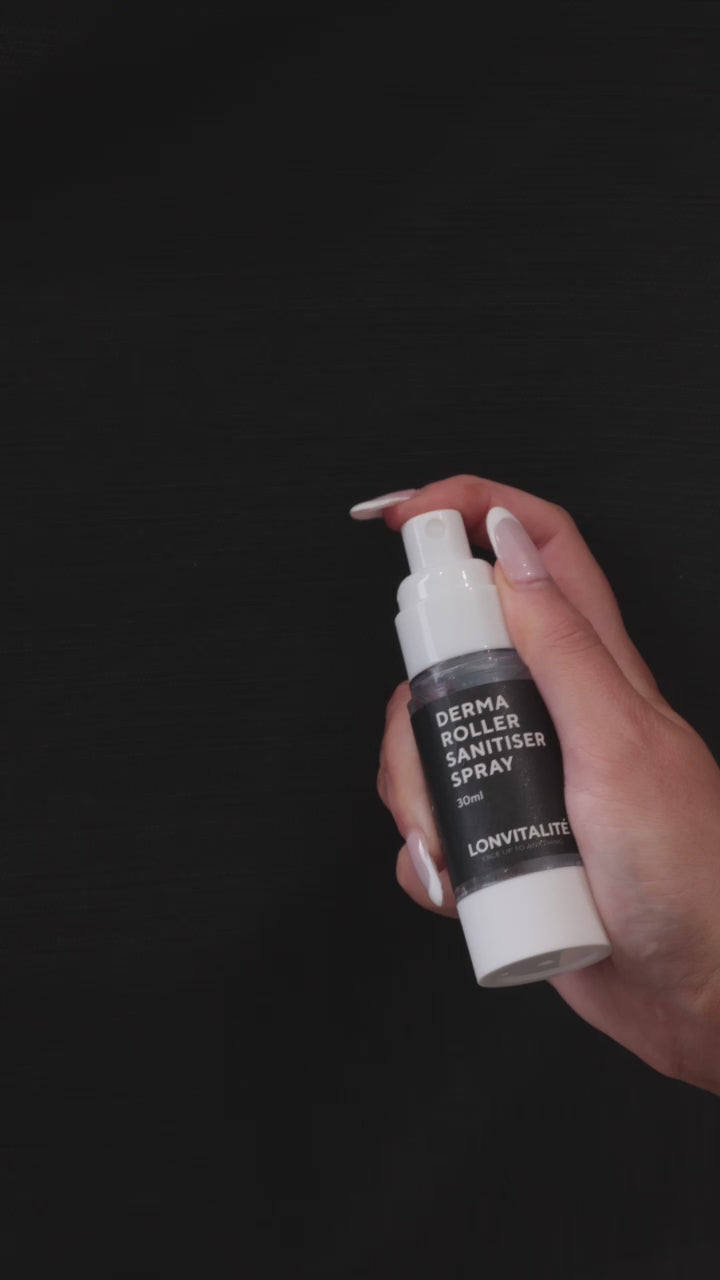 OUR PROMISE
INCREASED SKINCARE ABSORPTION
FAQs
Can I do microneedling myself?

Microneedling is a popular skincare treatment that can help to improve the appearance of fine lines, acne scars, and other skin imperfections. 

While it can be done at a dermatologist"s office, microneedling can also be done more conveniently and cheaply at home with the right tools. 

Lonvitalité'sSkin Needling Home Kit includes everything you need to get started, including detailed instructions so you can be sure you're doing it correctly.

 And because it's less expensive than professional treatments, a Skin Needling Home Kit is a great way to save money while still getting the results you want. So if you're looking for an affordable way to improve your skin and give it an ethereal glow, Lonvitalité is here and delivers our Derma Roller Kit Australia-wide.
 Is a microneedling roller the same as a derma roller kit?

If you're interested in beauty and skincare, chances are you've heard of microneedling rollers. But what exactly are they, and how do they compare to derma rollers?

Both types of rollers are designed to improve the appearance of your skin, but there are some key differences between them. Microneedling rollers have much smaller needles than derma rollers, which means they can more effectively target fine lines and wrinkles.

Additionally, microneedling rollers stimulate collagen production, which helps to improve the overall tone and texture of your skin. Derma rollers, on the other hand, are better suited for larger areas such as the cheeks or forehead. 

So if you're looking for a way to target specific problem areas, a microneedling roller is a better choice. 

But if you're looking fot the best of both worlds, there's nothing better than our Micro Needling Derma Roller Kit!
Do you need to use a serum with my Skin Needling Home Kit?

One common question about skin needling and derma rolling is whether or not it is necessary to use a serum. While serums are not required, they can help to boost the efficacy of the treatment. 

Serums that contain active ingredients such as vitamin C or hyaluronic acid can help to brighten the skin and promote collagen production. When used with a microneedling derma roller kit, these serums can help to give you an even more radiant complexion.
Is it painful to use a Dema Roller Microneedling Kit?

A derma roller is a small, handheld device that is covered in hundreds of tiny needles. The roller is gently rolled over the skin, causing the needles to puncture the surface. This may sound like a painful process, but it actually causes very little discomfort when done correctly. 

In fact, many users find the experience quite relaxing. The key is to go slowly and use a light touch. And don't worry - we provide detailed instructions with our Derma Roller Kit, so you will be a pro in no time!

Derma rolling has become a popular skincare treatment because it can improve the appearance of fine lines, wrinkles, and scars. It can also help to reduce pore size and increase collagen production. 
Is a pen or roller better more effective in a Microneedling Kit?

Whether you're a beauty junkie or just beginning to dip your toes into the world of skincare, you've probably heard of microneedling. This popular treatment is said to improve the appearance of wrinkles, fine lines, and scars by stimulating collagen production. 

So, which is better for microneedling: a pen or a roller? While there are benefits to both, most experts agree that a roller is the better option. This is because a roller can cover a larger surface area, which means it's more effective at stimulating collagen production. Additionally, rollers are less likely to cause bruising and other side effects than pens. 

If you're new to microneedling, we recommend starting with a Derma Roller Kit rather than a pen.